Aqd @ Wedding Season: Private Exhibition
This orderly, manifestly symmetrical contemporary marriage sofreh (sofreh-ye aqd), that showcases a fusion of tradition and modernity, is inspired by the "Gold and Glass" sofreh featured in SOFREH: The Art of Persian Celebration, and posted on social media pages in July 2017 and August 2018. It was designed for a private exhibition in June/July 2022.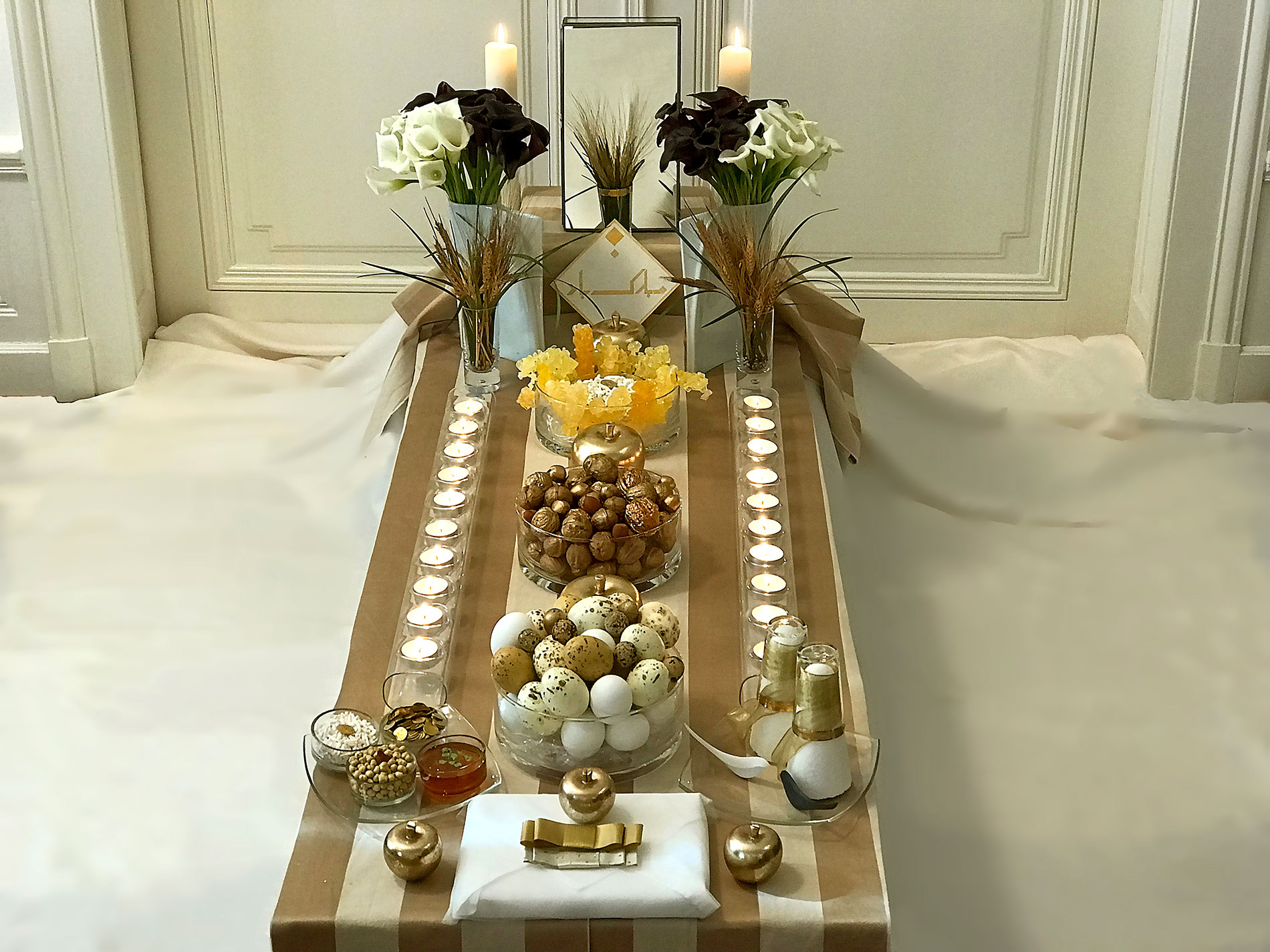 This is the overall view of the sofreh, which includes an understated mirror flanked by pillar candles and modern vases of black and white calla lilies. Two rows of tea lights illuminate the sofreh. The important symbolic elements of the sofreh-ye aqd are presented in simple glass containers. A stylized Persian script of congratulations (mobarak bad) and a neatly wrapped volume of the Qur'an adorn the two extremities of the sofreh.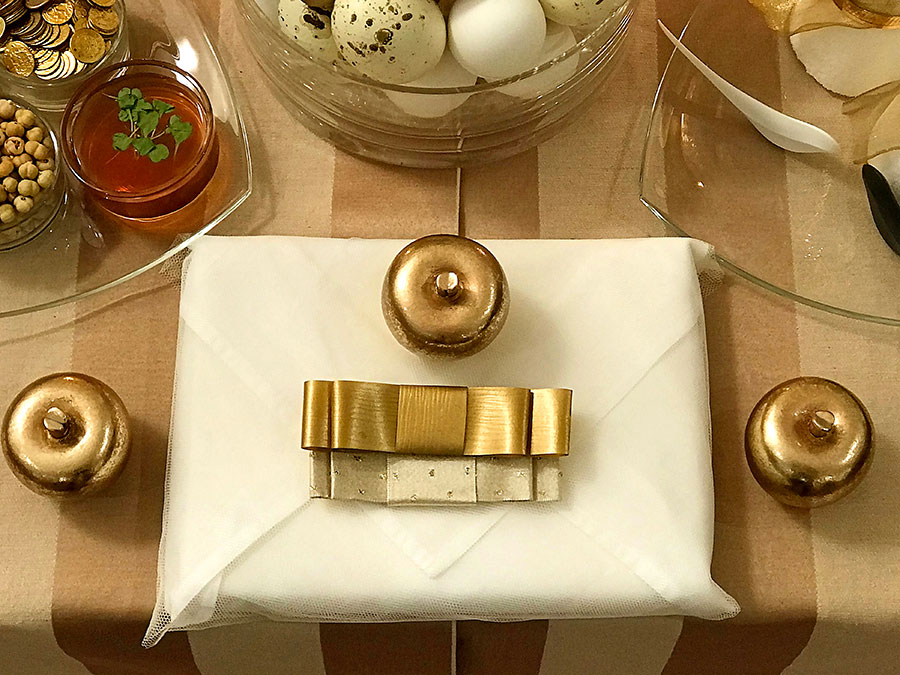 This lower section of the sofreh showcases a Qur'an, elegantly wrapped in a fine ivory textile and tulle and fastened with two simple flat bows in gold and cream. Three miniature gold-finish sculptured apples embellish this section. The Qur'an, which is usually part of the Persian marriage sofreh, signifies protection and guidance for the newlyweds. The apple, which is considered a heavenly fruit (miveh-ye beheshti), is a symbol of fertility.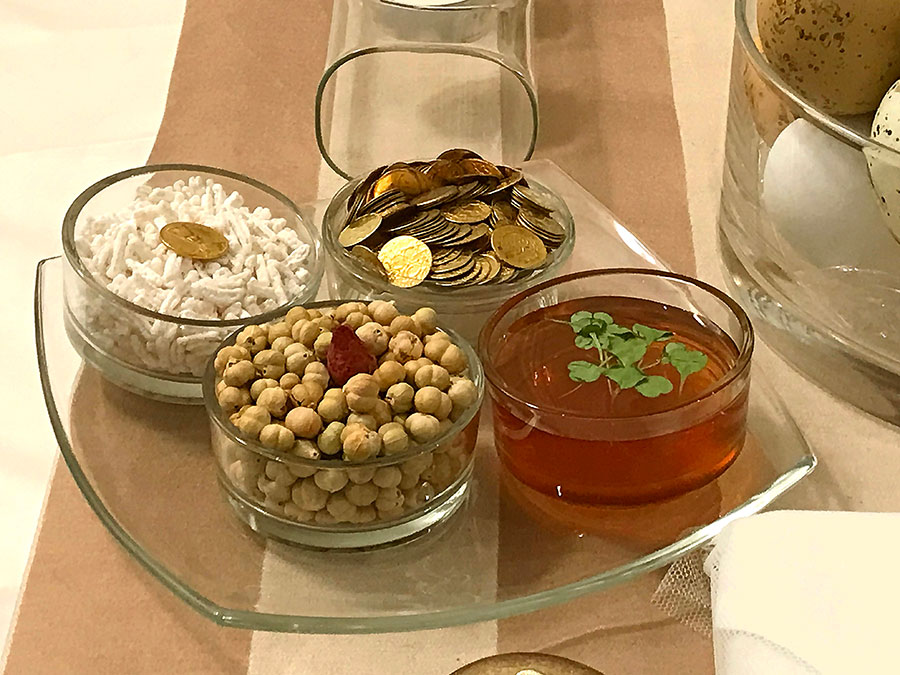 This image focuses on the miniature ensemble of four important elements of the sofreh-ye aqd, presented in tiny glass containers, placed on a concave square plate. Persian sugared almonds (noql) are a symbol of sweetness and harmony and gilded coins (sekkeh) symbolize wealth and prosperity. As their fragrant smoke is believed to have evil-averting powers, seeds of rue (esfand), here presented in their pods, are burnt during the ceremony. The newlyweds also exchange a taste of honey, in the hope of a sweet married life.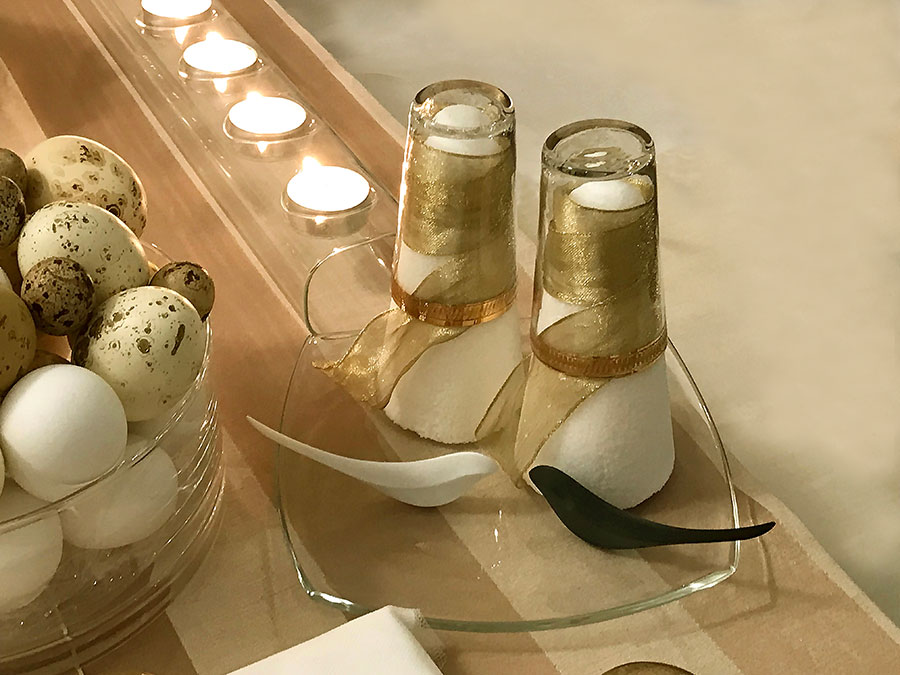 This square concave glass plate showcases a pair of sugarloaves (kalleh qand) embellished with fine gold ribbons and gold-rimmed glass caps. A pair of sculptured stylized birds in white and black represents the bride and the groom. Sugarloaves are ground above the heads of the couple during the aqd ceremony to shower them with sweetness. This miniature ensemble creates symmetry with the similar arrangement on the opposite side of the sofreh.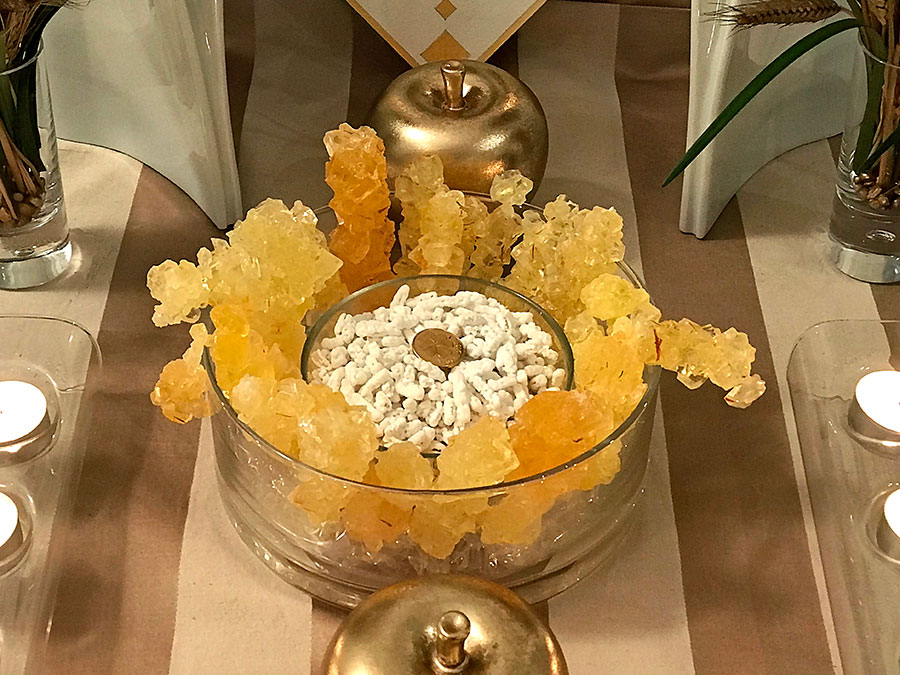 This central section is dedicated to an enchanting glass container of gold-tinted sticks of crystal sugar (shakheh nabat), and Persian sugared almonds (noql), embellished with a single gold coin (sekkeh)—a symbol of wealth and prosperity. In the Persian culture, noql o nabat are synonymous with joy and celebrations and are symbols of sweetness and harmony—another expression of hope for a sweet and harmonious married life.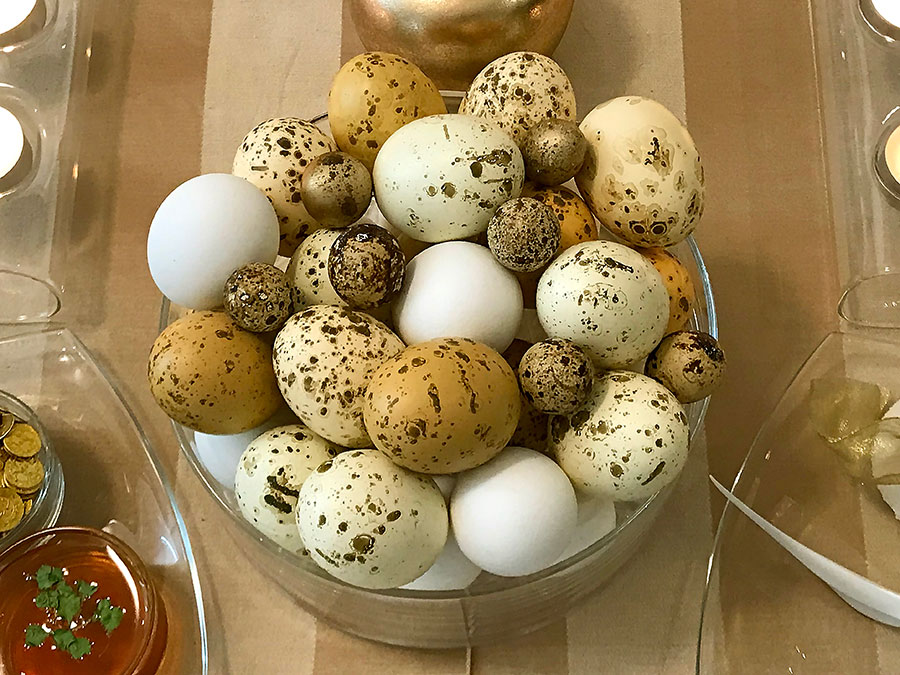 This glass container with a pleasing mixture of subtly decorated and natural white eggs represents life and fertility in the Persian culture, as it does in many other traditions. To add interest and present variety, decorated and natural quail eggs are also included. This soft combination in muted and neutral shades beautifully complements the serene colour scheme of this soothing, pure and original Persian marriage sofreh (sofreh-ye aqd).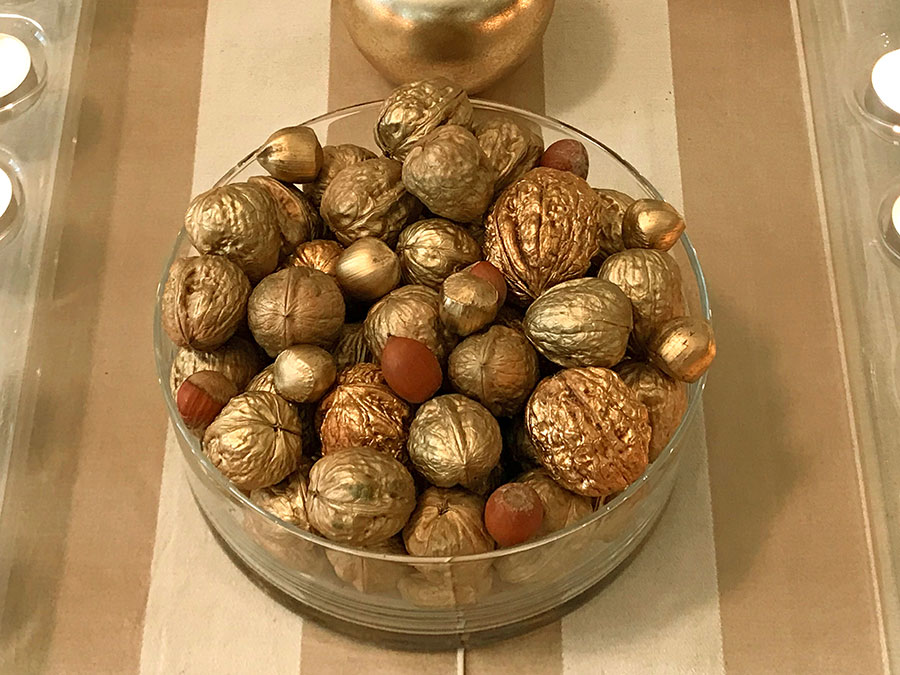 To create order and symmetry, this glass bowl, holding a mixture of natural and decorated nuts, is identical to those containing the crystal sugar and eggs. Nuts, which are an important part of the Persian cuisine and culinary tradition, are also a symbol of fertility and are frequently included in the sofreh-ye aqd. They indicate a wish for the couple to have healthy and numerous offspring.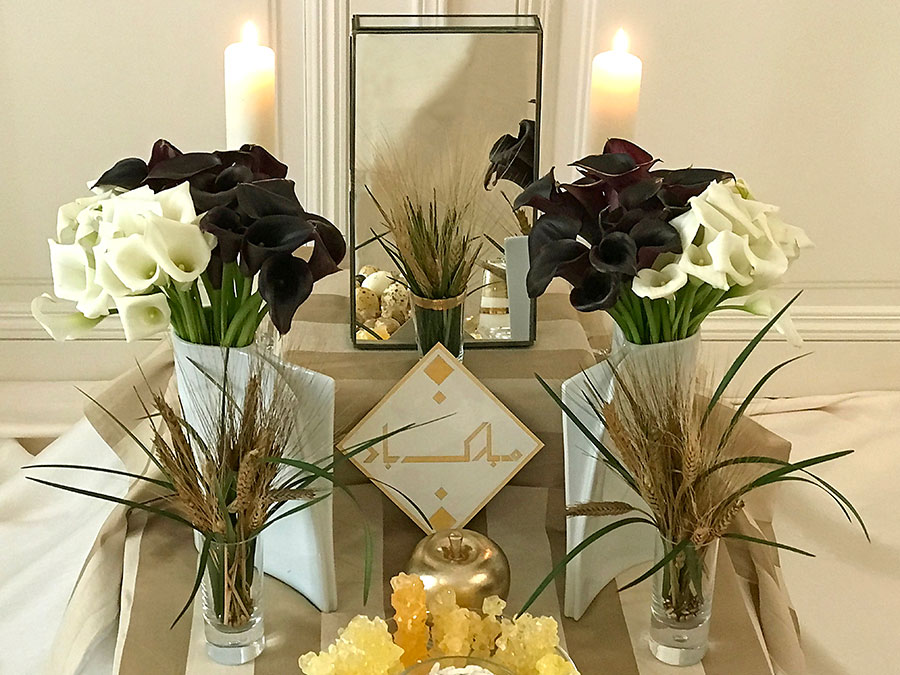 Appropriately, the presentation of the details of this contemporary sofreh ends with showcasing the heart of the composition. This image focuses on the simple rectangular mirror flanked by flames. The choice of flowers—clusters of calla lilies in white and black, known as Crystal White and Cantor, echoing the bride and the groom—is relevant to the spirit of the arrangement. Sheaves of wheat, a symbol of blessing and abundance, mixed with foliage are presented in three glass vases, one of which is nicely reflected in the mirror. A stylized Persian script in gold heralds congratulations (mobarak bad).