ORDER
Two hardback volumes in a slipcase
Volume 1: 341 pages
Volume 2: 271 pages
Dimensions: 22 x 22 cm
Publisher: ACC Art Books
Language: English
ISBN: 978-1-851498-58-1
To order your copy from Amazon, please see below:
The Book is also available in all other countries that accept Amazon delivery.
To place orders directly with the publisher, please see below:
SOFREH: The Art of Persian Celebration is a journey in words and images through the culture of Persian celebrations. Never before have the splendour and beauty of these ancient traditions been presented in such an intricate and novel fashion. Sofreh, Persian for spread, is the focal point of the celebrations.
These two lavishly illustrated volumes devoted to compositions created for the Persian New Year and marriage ceremonies are beautifully presented and richly documented. The history and symbolism of ancient Persian customs are discussed. References to Persian poetry, literature, art and folklore stimulate the imagination, and the text is illuminated with exquisite details of old manuscripts, antique woven textiles and embroideries.
At the heart of each volume is a diverse array of original and at times highly elaborate sofreh creations. In a contemporary interpretation of traditional practices, modern fabrics and refined antique textiles, creative floral designs, unconventional pieces of furniture, unexpected objects and containers are all brought together to make this work a feast for the eye.
The concept of the project, the design and creation of the compositions, and the relevant essays are the work of Maryam Khosrowshahi, who has devoted much time and effort to the presentation of these culturally significant Persian ceremonies. The lucid historical essays are by Dr Willem Floor, an independent scholar who has written extensively about Iran. In the preface, the acclaimed Iranian artist Parviz Tanavoli comments that Maryam's sofreh creations "…have depth and movement; they are vibrant and dynamic…", and calls for a live exhibition of her works.
Book One is about the Persian New Year (Nowruz), which is celebrated on the first day of Spring. Book Two has to do with the elaborate settings for Persian marriage ceremonies (Aqd), often spelled 'Aghd'. The volumes are beautifully bound with natural cloth covers within a stylish slipcase. The book is designed by Anikst Design with additional design and consultancy provided by Liz Dixon, and published by ACC Art Books.
An enduring gift, this elegantly packaged compact book will appeal to those interested in folklore, beauty, art and design. It will especially enchant Iranians, not least those in the diaspora, as well as communities in Central Asia and the Indian Subcontinent where aspects of Persian culture still endure.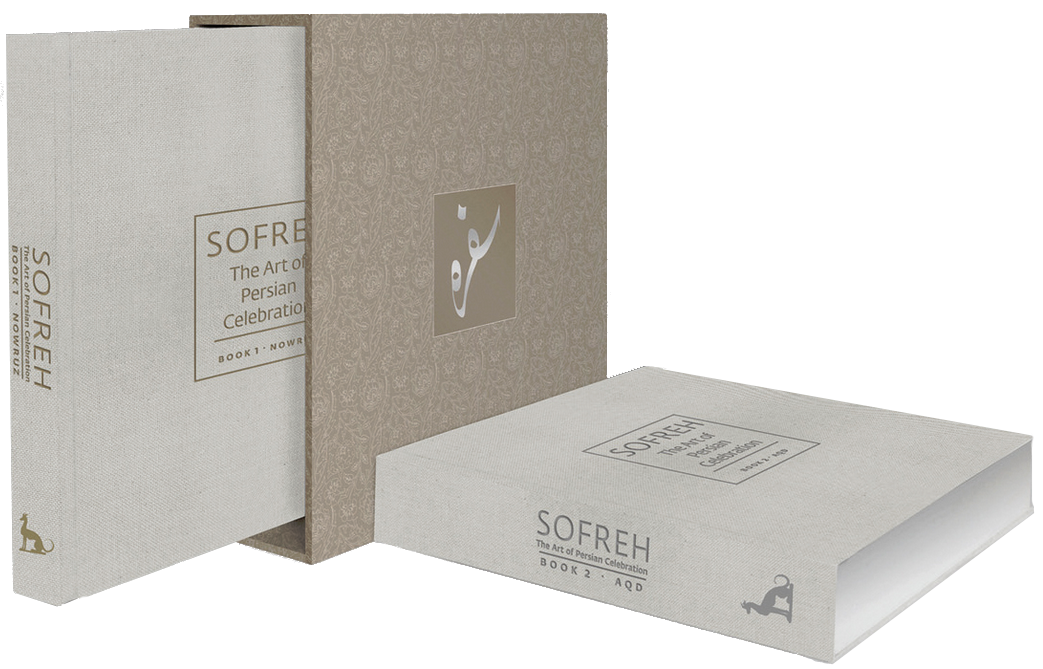 ORDER
Two hardback volumes in a slipcase
Volume 1: 341 pages
Volume 2: 271 pages
Dimensions: 22 x 22 cm
Publisher: ACC Art Books
Language: English
ISBN: 978-1-851498-58-1
To order your copy from Amazon, please see below:
The Book is also available in all other countries that accept Amazon delivery.
To place orders directly with the publisher, please see below:
Nowruz image credits: 13 After Roloff Beny, Persia: Bridge of Turquoise, McClelland and Stewart, Toronto, 1975; 17 British Museum, London, 1975,0523,0.3, photo: © The Trustees of the British Museum; 22 David Collection, Copenhagen, 23/1997, Pernille Klemp; 23 Persepolis, Iran/Bridgeman Images; 32 © British Library Board, I.O. ISLAMIC 3442, f32
Aqd image credits: 2 Freer Gallery of Art and Arthur M. Smithsonian Institution, Washington, D.C., Charles Lang Freer Endowment, F1946. 12. 132a; 3 © The British Library Board, London, Or.2933, f82b; 13 Engraving after an illustration from Louis Duboux, La Perse, Paris, 1841; 14 After Henry-René d'Allemagne, Du Khorassan au pays des Backhtiaris — ­trois mois de voyage en Perse, Paris 1911, vol.1